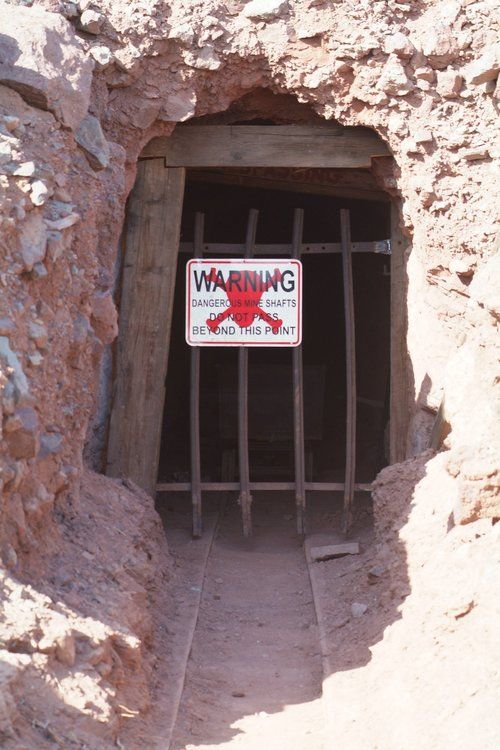 This Extreme Calico Mine Tour is a 3-4 hour educational and historical, hands-on, venture of a lifetime! The Silver King Mine, Level #6 is now accepting adventurous individuals to enter a world unknown for over 125 years. Step back in history and experience the Calico mines as early settlers did. Become a part of the living history of the Calico Mining District and the famous Silver King Mine.
This tour is a 3-4 hour adventure that will take you into the Silver King Mine. We will venture 350 feet through the portal of the horizontal shaft called level #6. The mine is still as it was over 125 years ago. There is a short hike (about 1/8 of a mile) that is all uphill. There is no vehicle access offered to the mine so participants should be in relatively fair shape before signing up.
Boots preferred, tennis shoes are ok. Long pants and long sleeve shirts are recommended, no flip flops or open toe shoes. It is suggested you wear clothes that can get dirty.
Mine tour requires strenuous walk up hill.
All participants must sign a disclaimer and waiver.
Mine tours are subject to some element of danger.
Expect to get dirty.
Mine tours are subject to cancellation due to unexpected extreme weather.
Tour requires a presentation and discussion on the dangers and safety elements of the mine.
Tours do not include park entrance fee or camping fees.
Helmets and lights are provided.
Kids 7 to 17 require adult supervision.
An opportunity of a lifetime, a chance to see firsthand what the conditions and lives were like of miners in the 1880's. Ever wondered what it would be like to push a loaded ore cart? Or how about experiencing one or two jack drilling? What was a "wynze" and how did it work? These are just a few of the adventures you will encounter.
An open mind ready to learn and experience. We will provide water, helmets and lights,
Due to the nature of the tour, pregnant women and individuals with back or neck problems are not recommended to go on this tour. Please make us aware of any medical conditions, for example if you are diabetic or have asthma.
Tour Fees and Reservations
$50.00 per person
Minimum $150
Special group rates and programs are available for nonprofit organizations. Call for information
Call (760)254-3050 for reservations.
Signing up for your tour is simple. Just call (760) 254-3050. We look forward to seeing you up in Calico!
Please note that tours are by reservation only. We want to work around your trip to Calico! Call us for more information.
(760) 254-3050